About
Exposure is highly photo stories oriented theme for Koken engine. It was inspired by great Exposure.co photo stories publishing platform and other photo stories sites like Maptia.com. I highly suggest you trying out Exposure.co platform and you won't have to worry about setting up server, hosting, backups, etc. But for me, as a developer, there is never enough and I like building and improving my site time by time, which is the main reason why I decided to create a theme for Koken - to have full control over my photos and automatically sync with Adobe Lightroom.
Features
Photo Stories
Instead of boring same size thumbnail galleries, with Exposure theme you can create much more interesting photo stories, using photo grids or full width photos. Theme comes with a special plugin for creating photo grids in your essays or pages.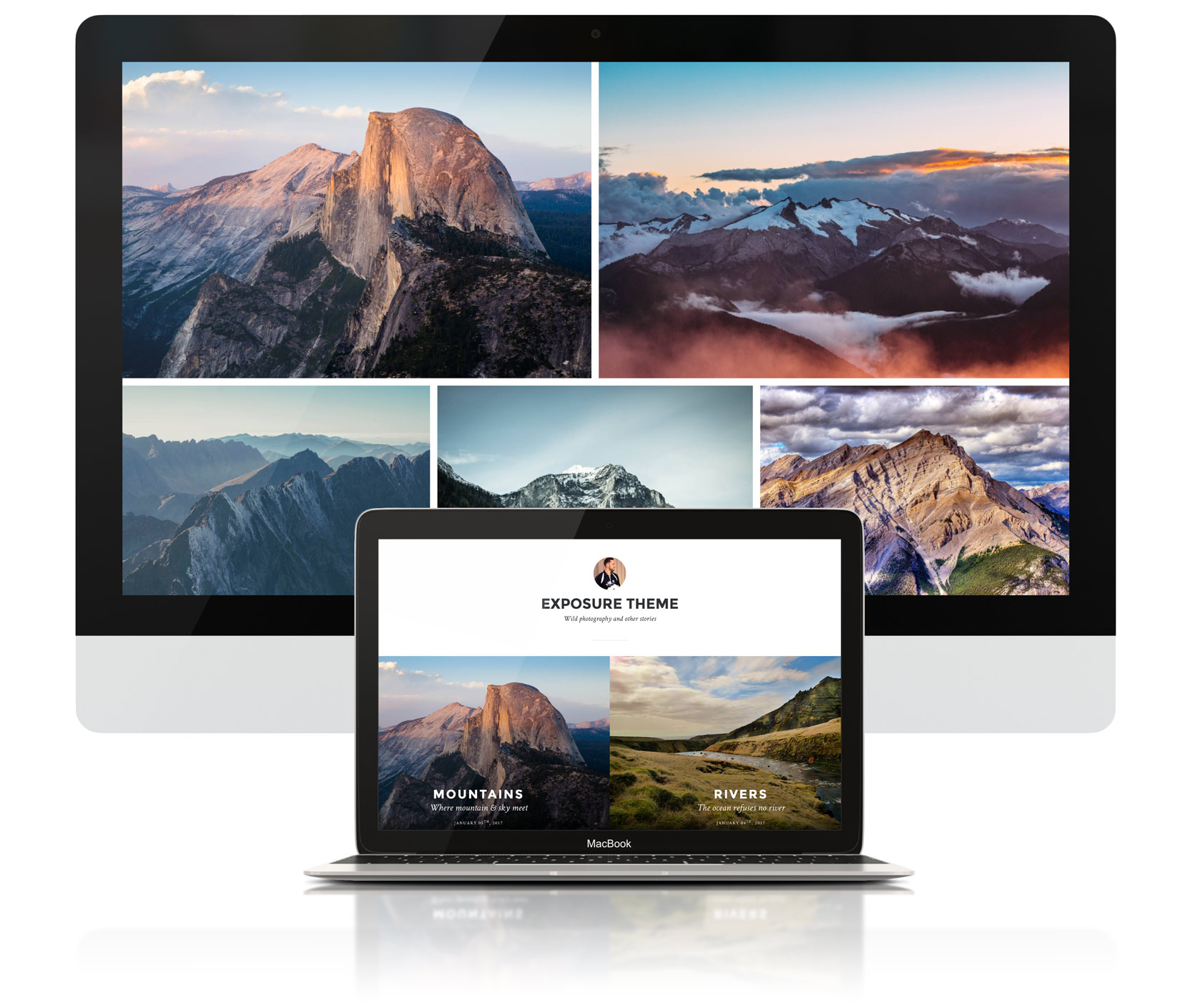 Responsive
Theme is 100% responsive and will look great on any of your devices. By properly reusing Koken features, theme automatically loads smaller photos on smaller devices.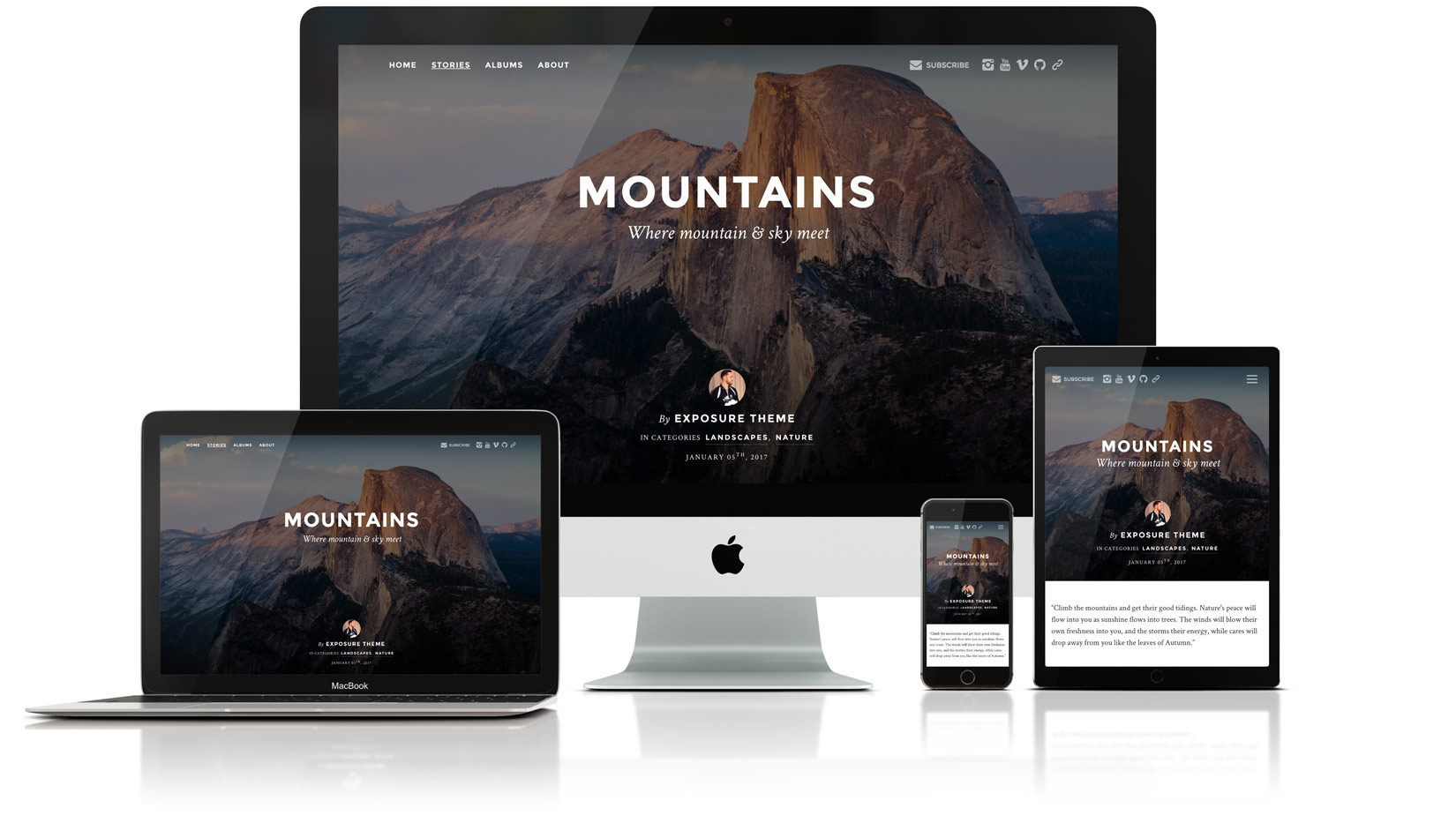 Masonry Layout
For album view you can choose "masonry" layout which works best for mixing horizontal and vertical photos.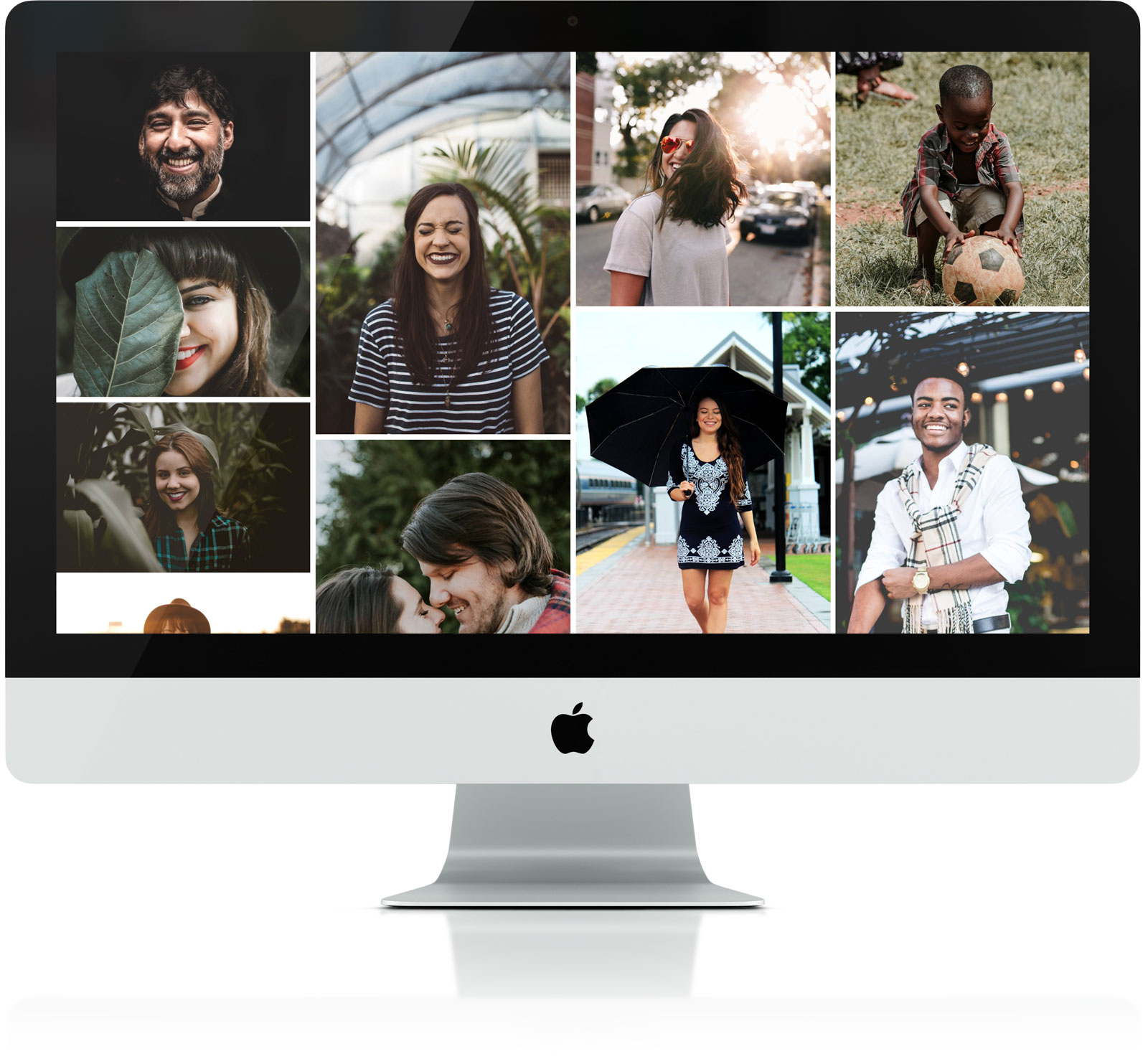 Exposure theme comes with a handy plugin, providing some extra cool features, like creating photo grids and photos drag&drop reordering in stories (essays) or pages.
Configuration settings
Along with configuration settings like – change avatar, favicon, social accounts you can even have Mailchimp newsletter sign up form, just by adding two params in admin! Choose between two layouts for story lists – spaceless or with spacing:
Bootstrap4 markup
Theme uses grid component of Bootstrap v4, which comes very handy if you're a developer yourself and want to make some customizations for theme on your own.
Showcase
Purchase
Usage
Using theme is a piece of cake:
Download & install Koken.
Upload Exposure theme to storage/themes/ directory.
Upload Exposure plugin to storage/plugins/ directory.
Enable Exposure theme under Site » Themes
Enable Exposure plugin under Settings » Plugins
Voilà! Your site must be now using Exposure Theme.
Full usage instructions how to customize theme, create photo stories, tips & tricks, etc. are included in purchase package.
Feel free to contact me if you have any questions or problems.
Support
For any problems or feature requests please add new issue on
Github issues tracker
or contact me directly at .
Changelog
v1.0.4
Contact form style added.
Mailchimp newsletter feature improvements.
v1.0.3
Responsive fixes for mobile devices.
Video iframes are now full width in essays and pages.
v1.0.2
Added featured albums to Home page.
Album spacing and other minor fixes.
v1.0.1
New templates added: Albums, Album, Sets, Set, Categories, Category, Tags, Tag.
Masonry layout for Albums: See demo
v1.0
Social Share bar for essays and pages.
MailChimp newsletter integration.
Exposure Photo Stories creation plugin.
Subscribe
Click here to subscribe to Exposure theme updates. Unsubscribe any time. (Powered by MailChimp)